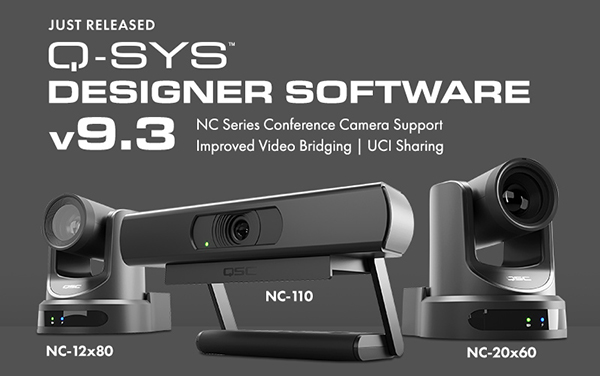 New Cameras, Improved Bridging Quality
NC Series Conference Cameras Now Supported
Begin to add new Q-SYS NC Series conference cameras to your upcoming Q‑SYS design before they begin shipping early next year.
NC Series Availability Update
NC-110:


Orderable: Now
Shipping: Early Jan 2022

NC-12×80 / NC-20×60:


Orderable: February 2022
Shipping: Early Spring 2022
Improved USB Video Bridging & Camera Streaming

New video technology brings higher‑quality, low-bandwidth IP streams with less latency reducing potential for AV sync issues.
UCI sharing & more

New UCI Controller capabilities allow for simplified sharing of UCIs, HID Conferencing support for Q-SYS I/O-8 Flex, plus Designer Asset Manager improvements.
Enterprise Manager & Core Manager

Asset Viewer allows you to see/track serial numbers and firmware versions for native Q-SYS Products (Enterprise Manager only).
Q-SYS Audio

Domain-based calling on Q-SYS Softphone allows for greater flexibility with PBX devices and network configurations. Also includes expanded Dante Domain compatibility.

Important Notice for the Core 110f
For installations utilizing the Core 110f's on-board AV USB bridge, 
the cable infrastructure between the Core 110f USB device port (Type B) and the PC's host port (Type A) must be USB 3.0 compatible
 in order to take advantage of the improved camera imaging and USB video bridging performance. (If you choose to use USB 2.0 infrastructure after updating to v9.3.0, bridging performance will be limited to 540p.)