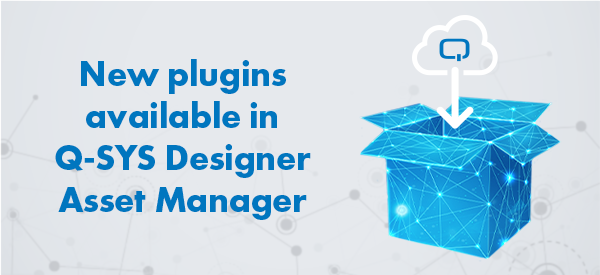 Easy Integration of Today's Popular Endpoints
Accessible from within Q-SYS Designer Software, Asset Manager is your one-stop-shop to easily add Q-SYS and endorsed third-party plugins into your design. Check out the recently released plugins now available for download.
Atlona AT-OCS-900N Occupancy Sensor



Monitor the state of occupancy, temperature and ambient light in a space, and tie this data to a Q-SYS system. This Q-SYS Reflect-ready plugin will give you a jump start into automating any space.


Perfect Octave BGM Player v2.0



This control plugin integrates this emerging licensed business music service into Q-SYS systems without any additional hardware. Select from over 350 different curated music stations and stream different music to multiple zones on your Q-SYS system. Easily add playback controls and station selection directly onto your Q-SYS touchscreen controller.


Nexus v1.2.1



With Nexus and their extensive library of Actions, you can easily create timed sequences of various Actions to automate your Q-SYS design – all without the need for any scripting.


Google Meet Sample Design v1.1.0.2



For high-value spaces utilizing Google Meet, these updated pre-configured sample design files give you a great starting point to expedite your design build.


Join QSC Communities for Developers to get real-time updates on these and any new Q-SYS plugins added to Asset Manager.